How to configure and use private or open comment channels within your challenge.
As standard all ideas have a comment area to facilitate discussion around an idea. Additional private Comment Channels can be enabled when setting up a challenge. These Private Comment Channels allow for discussion amongst specific groups of users as detailed below. These private comments are only visible to users of that channel.

Types of comment channels
Idea Team: a private channel for team members to discuss the idea. No other users including Challenge Managers and Admins will have access to this channel.
Managers: a private channel for the Challenge Managers and Admins.
Managers + Idea Team: a private channel for Challenge Managers/Admins plus the Team Members.
Create new Channel: Team Members and Challenge Managers can create custom channels for their ideas and choose who should be invited to the channel.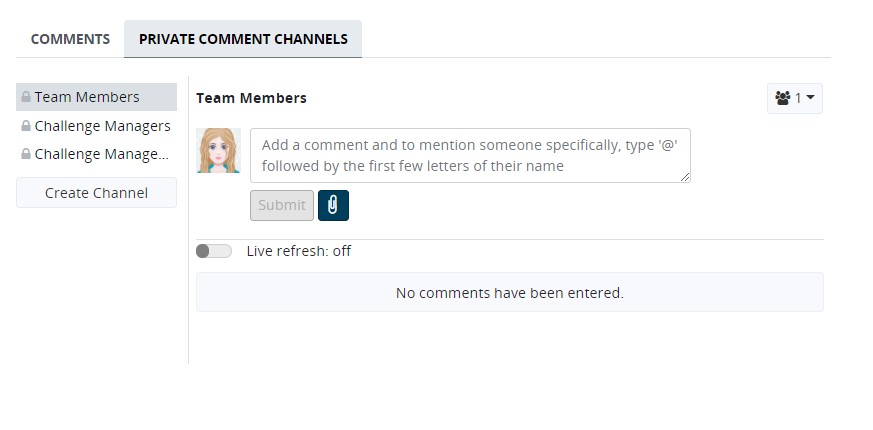 Enabling Private Comment Channels
Private comment channels must be enabled when creating the challenge. Navigate to the Challenge set up area and the Workflow tab. In the Gather stage configuration area select Yes under Private Comment Channels.
Creating a private comment channel
Team Members and Challenge Managers can create custom channels on their Ideas and invite other users to those channels. Other users cannot create private comment channels.
Navigate to your Idea
Select Private Comment Channels
Select Create Channel
Type a name for the new channel
Type in the names of the people that you want in the new channel and press enter




Select Confirm
Your new channel will appear on the left hand side

Collaborating in a comment channel
Select the channel that you wish to collaborate in on the left hand side
Type in the comment box, you can @mention users to notify them
Select the paper clip if you want to attach attachments to your comment.
Select Submit




To reply to a comment that has already been submitted, select the reply arrow
To like a comment select the like symbol.
To delete your comment select the rubbish bin.