Find out what configurable options might be applied to a Challenge and how to grant tokens.
Tokens are configured on a per Challenge basis and can be granted to all users, groups or individuals at different stages in the Challenge. They can only be assigned to active Ideas (ie not Ideas that have been Moved, Rejected, Approved or Completed). Users may also be allowed to remove and reallocate tokens or have tokens returned if Ideas are not progressed. Visibility of tokens and details of grantors is also configurable.
Granting tokens
If tokens are available to grant on a stage a pop up will appear when you access the Challenge.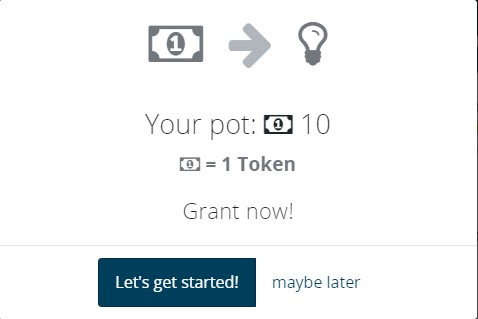 Click 'Let's get started!'
This will take users to the stage where they can grant tokens with a list of Ideas
Users can grant tokens in three ways:

On the Idea card

On the Idea Preview
On the Full View of the Idea


Click on the token icon or Grant and a modal will appear
Enter the number of tokens you'd like to award to the Idea and click Grant




Users will see their tokens pot and as you grant tokens the number will update so you can track your allocation.

The View History link displays the full history of tokens.

Removing granted tokens
Click on the token icon or the Grant button
Update the total to reflect the new allocation
Click Grant
The tokens allocated to that Idea and the token pot will be updated