Building a Challenge Idea form
Forms can be built at the site, idea space or community level. Forms are available to all spaces/communities that exist in the hierarchy under the point where the form was created.
Creating a Form
In settings cog select Form Builder

Select Create New Form

Give the form a Name
Fill in a Form Description
Mark the form as Active to be able to use this form on Challenges

Select the
Adding a field to a form
Add a Field tab
Drag and drop the fields you want to use from the left to the right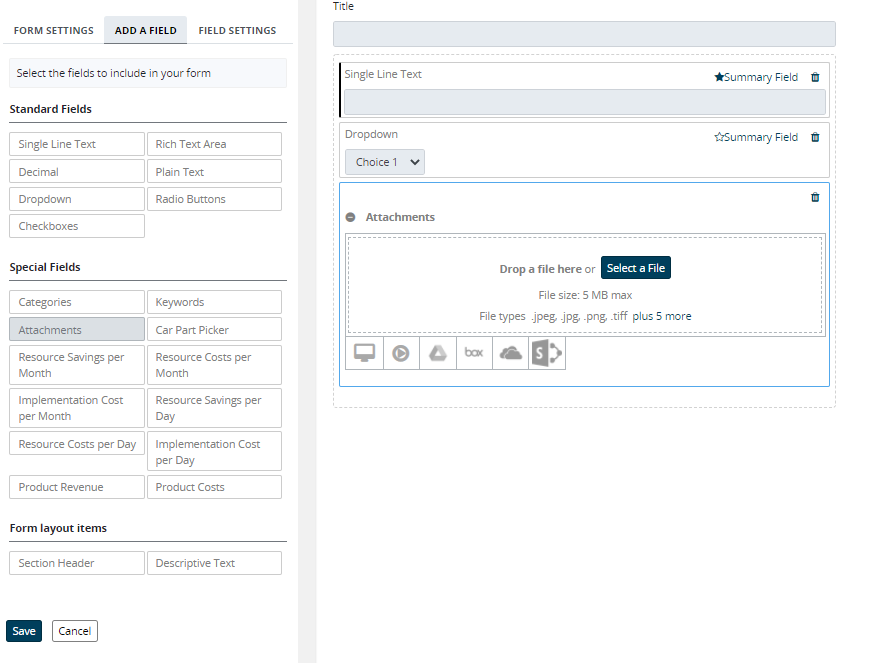 Select the Field Settings tab
Select the first field on the form
Type in the title
For text input fields update the character limit
To make a field require select the Make field required checkbox
Types of Fields
Single Line Text – Limits users to a single line of text.
Rich Text Area - Provides a text box with formatting functionality for the user.
Plain Text – Provides a simple text box without formatting functionality.
Decimal – A single line box which only supports numbers.
Dropdown – Provides a list of predefined options for the user in a dropdown style. The user can select one option only.
Radio Buttons – Provides a set of predefined options for the user in a radio button style layout. The user can only select one option.
Checkboxes – Provides a set of predefined options for the user in a multiple checkbox style layout. The user can select as many options as they wish.
Categories – Puts the Category functionality onto the form. (The categories you want to use are not determined here, they are chosen when you build the Challenge. This simply enables to functionality on the form.) Sub Field Label refers to the name of the drop down box if you are using sub-categories.
Keywords – Enables keyword functionality. Keywords are used for tagging the Idea for filtering in search. They are also what is used to build the word cloud feature.
Attachments – This allows users to upload an image for their Idea as well as attach any documents or videos. To make this more obvious to users ensure you select 'Section defaults open' to make this box expanded by default.
Section Header – This provides a collapsible and expandable box which other form fields can sit in. It provides additional organisation which can be helpful in particularly large forms. Drag other form fields into the section header box on the right side. If you want to have this box and its contents expanded by default select 'Section default open'
Descriptive text – Allows you to input fixed text onto the form. Used for permanent help text or additional information directly on the form
Taxonomy – Allows you to select a value from a list with multiple columns. You can read more about this in the taxonomy guide
Outcomes – Allows you to cost an idea based off the fields being filled out. You can read more about this in the Outcomes guide.